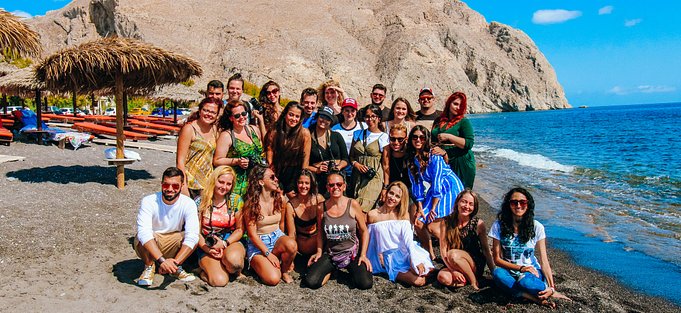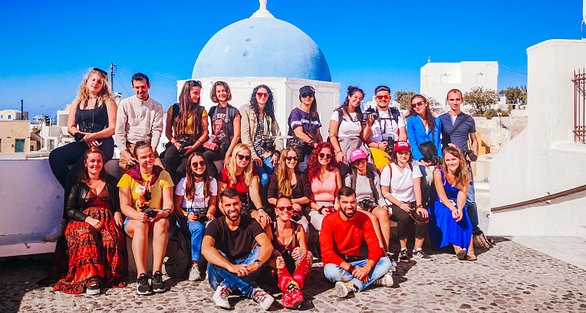 "It is always a pleasure to see Gabriele and Massimiliano and take part in one of their dicovery's. The choice of the location was perfect, and the atmosphere within the group great. It's been "just" four shot days, but it feels as always as though we're part of a family.
See you soon on a new Discovery"
Adriana from Italy (Discover Santorini I)
"Sono felice di aver avuto l'occasione per partecipare a Discover Santorini è stata una bellissima esperienza. Piena di gente volenterosa, e tutti con una passione che ci legava. Gabriele e Massimiliano sono persone fantastiche sempre pronte ad aiutarti, a darti delle risposte. Abbiamo guardato tanto di quello che questa terra meravigliosa aveva da offrirci, abbiamo scattato tanto e ci siamo confrontati e conosciuti tanto. Ci siamo divertiti tanto, durante il workshop e nei momenti di svago. Ed è un'esperienza che rifarei altre mille volte. Sarà il primo di molti altri insieme. Ci rivediamo presto e grazie a tutti i miei compagni di viaggio"​​​​​​
Valeria from Italy (Discover Santorini I)
" We got to see basically the whole island of Santorini plus the volcano. It was only four days, but it felt like at least a week. We managed to see and so much, and it was all so itneresting.", Gertrude said.
What our participants said about their experiences in Discover Santorini
"Back home! Once again, thank you for another unique and wonderful experience! Thanks for everything twins, for your patience, for your availability and kindness. I can't wait to travel again with you! Vi voglio bene and I am sure we will meet again very soon!"
Roberta from Italy (Discover Santorini I)
"E' da tantissimi anni che volevo andare a Santorini, e grazie a Gabriele e Massimiliano che mi hanno chiamato in questo Discovery, il mio secondo Discovery è il primo Discovery a Santorini sono riuscito ad andarci. Vedete molti non capiscono quello che io ho provato e quello che gli altri hanno provato, nel partecipare a un Discovery è non lo capiranno finche non parteciperanno a un progetto con questi due ragazzi Siciliani stupendi, perchè il bello di questi Discovery sta nel conoscere posti nuovi, culture nuove, ciobo diverso, conoscere persone meravigliose che condividono questa meravigliosa passione della fotografia, chi per i ritratti, chi per i paesaggi, chi per street photography, tutti quelli che partecipano, li accomuna soltanto una cosa:"La Fotografia". Io personalmente sono tornato a casa felice con un sorriso è con altrettanta voglia di viaggiare e conoscere altre persone.
Una parte di me rimarrà per sempre in quei posti fantastisci di Santorini dove ti giravi e guardavi il tramonto, verso quell'orizzonte pieno di sogni e speranza.Grazie a tutti per questa esperienza fantastica, grazie a LetMeItalianYou per questa magnifica esperienza!"
Mario from Italy (Discover Santorini I)
"Sono felicissima di aver avuto l'occasione di partecipare al Discover Santorini, un grande grazie a Gabriele e Massimiliano, un mio sogno nel cassetto si è avverato! L'itinerario mi è piaciuto molto, le escursioni sono state fantastiche, nella compagnia ho conosciuto persone allegre e spensierate! In futuro mi piacerebbe partecipare a qualche altro progetto, sono passati pochi giorni dal rientro a casa e già mi mancate tutti! Strada facendo spero di rincontrare tutti i miei compagni di viaggio"
Alessia from Italy (Discover Santorini I)
"Esperienza a dir poco fantastica! Progetto organizzato davvero bene con la possibilità di scoprire nuovi posti meravigliosi e persone nuove che porterò nel cuore. Mi sono divertita tantissimo sia nei momenti di workshop che nei momenti di svago a partire dalle serate trascorse nei locali fino ad "assaporare" con gli occhi tutto ciò che questa terra meravigliosa mi ha permesso di osservare e conoscere. Consiglio vivamente a chiunque abbia questo tipo di passione di partecipare a questo progetto. Per quanto mi riguarda sono sicura sia stato il primo di molti altri che verranno. Un grazie di ai gemelli Massimiliano e Gabriele che sono dei ragazzi unici e a tutti i miei nuovi compagni di viaggio! Ci rivediamo presto!"
Claudia from Italy (Discover Santorini I)
"Santorini is magical, no doubt about it. The typical buildings, painted white, to reflect the sunlight and keep the coolness inside them, and the unique domes, that imitate the blue of that incredible sea. People perch on little walls to watch its sunsets, as if they were at the stadium, so they wouldn't lose one shade. Santorini is magical, but the understanding with the other travelers/photographers of the group, even more so. I felt at home. Let Me Italian You is exactly like that: the possibility to discover places and people, not as if it were the first time, but as if we were finding each other again, after a long time. Thank you, Gabriele and Massimiliano!"
Stefania from Italy (Discover Santorini I)
"I liked a well-organized phototrip to Santorini. Everything was taken care of and nothing had to be worry. Just come and enjoy! The best views, interesting models, most beautiful beaches and tastier food at a reasonable price! And in addition, friendly company. I am very thankful for this, and could happen that i will repeat that edition - its worth that"
Liina from Estonia (Discover Santorini I)
"The first Edition of Discover Santorini was just amazing. It was so much fun to explore this breathtaking island with the group. I love meeting new people from all over Europe. Personally, Santorini is such a special place and perfect for a photography project. The trip was very organized and it was very convenient to explore the island by bus. The dreamy city of Oia was just amazing especially the white and blue dome-shaped buildings. Shooting the models at the beach was also a very unique experience. Santorini is definitely worth visiting and I can't wait to join another project with Let me Italian you!"
Vivien from Germany (Discover Santorini I)
"Consiglio a tutti vivamente di fare una esperienza del genere, che tu sia un fotografo amatoriale o professionista, perché Letmeitalianyou con la loro bella organizzazione ti fanno vivere emozioni uniche! Sono stata con loro al primo discovery a Santorini, una delle più belle isole della Grecia, ogni giorno era organizzato alla perfezione e abbiamo visto tanti posti diversi, scattato in ogni angolo di quell'isola che ci ha fatto innamorare subito. Ho conosciuto tante persone diverse, italiane e non, e ci siamo fatti anche tante risate. È un modo bellissimo di poter vivere un esperienza con una passione che ci accomuna tutti, ovvero scattare foto ed esplorare. Gabriele e Massimiliano sono dei organizzatori formidabili, gentili, educati e per ogni cosa sempre disponibili. Ho vissuto dei giorni che ricorderò con un sorriso sperando di poter ritornare l'anno prossimo per una nuova avventura! Grazie a loro, grazie ai compagni che ho conosciuto, grazie di tutto!"
Maria from Italy (Discover Santorini I)
"Discover Santorini was my second project with the twins. I think their projects are the best way to get to know and to see some place. We got to see basically the whole island plus the volcano. It was only four days, but it felt like at least a week.
We managed to see and do so much, and it was all so interesting.
In addition, you meet so many great people during the projects."
Gertrude from Estonia (Discover Santorini I)
"Discover Santorini è stata un'esperienza unica. I ragazzi hanno saputo scegliere il periodo migliore per andarci in modo da riuscire a svolgere tutte le attività in programma e agevolando le necessità dei partecipanti fotografi. Il gruppo è stato fantastico, persone di diverse età che nonostante ciò si amalgamavano bene, fondamentale per rendere l'esperienza unica e divertente. Santorini come città è mozzafiato, i suoi tramonti e panorami meritano di essere visti almeno una volta nella vita e ancor meglio se in buona compagnia. In questi viaggi Let me Italian you é sempre una garanzia!"
Monica from Italy (Discover Santorini I)
"I congratulate the twins for another successful edition and for the good planning in the new Letmeitalianyou adventure in Santorini Island. The schedule was very busy every day, we visited most of the sights in the area and we learned from Eugenia, our travel guide, about the history and traditions of the place, the famous white villages and the Vulcanic landscape. Michał, our photography teacher, talked about landscape and long exposure photography, and it was nice to practiced photography in nature with such great panoramas and sunsets. I liked that I had the chance to take a swim in the sea, relax on the beautiful beaches, or try the traditional greek food, wines and frappe in various taverns and restaurants, in company of such wonderful people from different countries and with diverse interests. I want to thank Massi and Gabriele for making it happen and thanks to the models and the rest of participants involved, it was a pleasure to meet you all. You make these experiences to be so satisfying, not only for the rich of the sightseeing and information brought, but for the pleasant company, with young spirit, good mood and feel creative moments and memories, like this one.
Good luck until we see each other again in a future edition!"
Alexandra from Romania (Discover Santorini I)
"Ho partecipato a Discover Santorini e che dire…un'esperienza unica! Ho conosciuto persone meravigliose che porterò nel cuore, ho vissuto i tramonti più belli e guardato un'alba spettacolare! Abbiamo fotografato i panorami più belli, ballato e riso di cuore. Partite e lasciatevi travolgere da tutto ciò. Buon Viaggio a chi partirà! E un grazie immenso ai miei compagni di viaggio e ai gemelli per aver organizzato tutto!"
Sara from Italy (Discover Santorini I)
"Con Discover Santori Let me Italian you mi ha fatto vivere un'esperienza unica all'insegna di paesaggi meravigliosi ricchi di luci e colori dove ho potuto arricchire al meglio la mia esperienza fotografica e scoprire un team di ragazzi/e fantastici che hanno giorno dopo giorno completato la mia partecipazione a questo fantastico evento"
Matteo from Italy (Discover Santorini I)