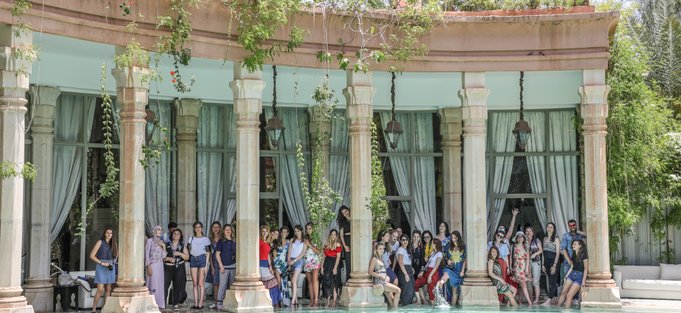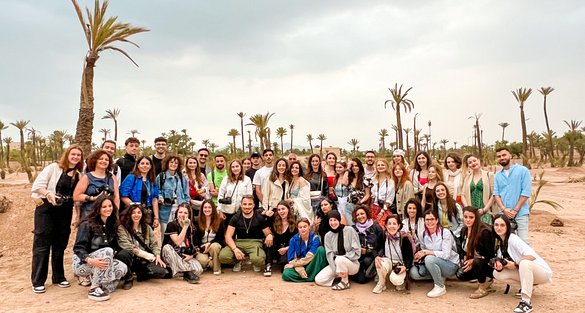 "Discover Marrakech was an incredible and deep experience. Interact with a culture totally different from yours has been an intensive emotion, maybe because what we knew about it we learnt only through other people. Interact directly with them let you understand that it's not so terrible as some people describe. For so many years I've dreamt to be there...and then like magic I was walking in those places and it was like daydream! It was love at first sight! A big THANK you to Gabriele and Massimiliano because I think it has been very brave taking such big group in Marrakech and manage it in the best way, as they used to do. An incredible experience that I advice everyone to try!"
Rosy from Italy (Discover Marrakech I)
"It's like going back in time with the only different that people from Marrakech know very well that what you handle in your hands is a camera and they will do everything in order to not make easy your photos. A must THANKS to the guy of Let me Italian you for another amazig experience not only photographic but also human. As from the first day I met you, you are the humble and amazing people that every human beings should know . See you soon in other adventures!"
Antonello from Italy (Discover Marrakech I)
"From the old Médina, where the traditions live, to the new part, where people try to be more "modern", Marrakech is a crowded place, full of people and crazy drivers everywhere, but also, Marrakech is a mix of colours and smells, that surprised every corner you turn. I could never be grateful enough to had the opportunity to see, smell and live this amazing city as Marrakech. A special thanks goes to Massimiliano and Gabriele and their project Let me Italian you. They made this experience unique and unforgettable with their workshop and made me hug again friends that I met in another project that I participated and also made me meet a lot of new amazing people from different countries. THANK YOU ALL!"
Elisabeth from Italy (Discover Marrakech I)
"Let me Italian you gave me the opportunity to travel safely and well organised while exploring beautiful Marrakech and having an awesome time with many wonderful moments" , Simone said.
What our participants said about their experiences in Discover Marrakech
"Discover Marrakech è stata la mia terza partecipazione al progetto Let me Italian You. Si è rivelata fin da subito un miscuglio di senzazioni ed emozioni, ha risvegliato tutti i miei sensi e per ciascuno ho più ricordi; il canto del Muezzin che pervadeva l'aria e si infilava nei souk e i colori vividi, a contrasto in ogni dove rimangono fra i più forti. Ho incontrato un'umanità che solo al turista distratto pare essere lì unicamente per vendere ad ogni costo. Osservare i bambini per strada, donne e uomini al lavoro attraverso l'obiettivo della mia Nikon è stato un crescendo di emozioni. Torno a casa soddisfatta, appagata e con la voglia di ripartire per il prossimo Discover... domani! Grazie Gabriele e Massimiliano, adoro sempre più il vostro progetto Let me Italian you, mi sa che non c'è tre senza quattro!"
Stefania from Italy (Discover Marrakech I)
"I came home last Monday from a trip to Marrakesh. It was a photography workshop - one of those organized by the very talented twins at Let me Italian you that I am certain you've heard me brag about.
It was 30+ photographers happily walking the streets of the red city, snapping away and defying the ever present "No photos!!" " No Photos!!". It was FAMILY. It became family from the very start, as it always happens in these reunions. We saw old friends again and we made new ones. We spoke more than one language together - lucky me! - and most of all, we did what we love best - taking photos!!
So thank you wonderful twins Gabriele and Massimiliano for the opportunity. Looking forward to seeing you again in Lisbon in April."
Adriana from Italy (Discover Marrakech I)
"Twins and guys group, thank you very much for the opportunity to discover together Marrakech, the city of the red walls, a mystical but exhausting city, where you always had to be with eyes wide open in the main square to avoid being run over by a motorcyclist , walking and getting lost in its streets was a great experience, see everywhere children who love football, cats, smells of spices, steaming meals, songs, prayers of mosques, and the square always full of people, colors of mosaics, storytellers, dancing snakes, men with monkeys, women who make henna tattoos, overwhelming vendors, acrobats, for a moment I felt inside an overwhelming movie where I wanted to say: STOP!
Actually another world for what we are used to live, so I thank you infinitely for organizing this special edition and take us to this corner of the world where I will remember forever. THANK YOU!"
Abby from Mexico (Discover Marrakech I)
"This has been my third experience with Let me Italian you and won't be the last, of course! Marrakesh has been intense and it made me get to know a different reality than the one I live everyday. I would have spent more days in Marrakesh both for the city and the people I've met! Thank you so much for the great opportunity!"
Paola from Italy (Discover Marrakech I)
"I lived an experience of growing my skills and confronting with other photographers and lovely people who share the same passion for photography, led by the twins Massimiliano and Gabriele who have the ability to make this experience in Letmeitalian project, unique and unforgettable. I Love them and Letmeitalian you!"
Silvia from Italy (Discover Marrakech I)
"Surround yourself with people who push you, who challenge you, who make you laugh, who make you better, who make you happy". I think this is the perfect phrase to describe the Let me Italian you family. Everytime I travel with them I feel like home. Everytime I find a group of people ready to share their passion, to compare, to help each other. This time I flew with them to Marrakech, ready to discover a new culture and a new continent. What to say, I was surprised by this city, both for good and for bad. I think the best adjective to describe Marrakech is "contradictory": from the old Medina to the super luxury hotels, from the confusion of the souks and Jamaa El Fna to the tranquility of the terraces and the Riads. And thanks to Massimiliano and Gabriele for this other opportunity, to always welcome me with a smile and to make me discover new cities with them, you are amazing guys! See you soon!"
Samantha from Italy (Discover Marrakech I)
"I will always keep in my mind this beautiful experience, the twins and all old and new friends met during Discover Marrakech project, together with the colours, sounds and smells of this vibrant and fascinating city. It was really an amazing experience, see you at the next project!
Thanks for all guys!"
Annarosa from Italy (Discover Marrakech I)
"My experience in Discover Marrakech II was unforgettable! Massi and Gabri organized the trip very well and took care of the partecipants before, during and after the trip! I had no doubts, everything was very clear the whole time. They even searched the best cheap flights for me, as a student it was important. I have no bad things to say! The people who I met during the project were amazing, we had so much fun and everyone learned from each other. We were a great international team! Thank you for the beautiful experience!"
Ada from Finland (Discover Marrakech II)
"Five stars aren't enough to describe the event that was this Discover Marrakech 2, the kindness and awesomeness of Gabri and Massi, the masterplanners, and the great Yan Pekar. The whole group was incredible! Just want to thank you guys again for this oportunity, for your kindness and availability. You were truly amazing and we saw you doing everything you could to make this go right! And you were right: we had a group that seemed to know eachother for a lifetime, and it felt so right! "Marrakech is a city that takes your heart". And you all took a piece of mine too, thank you all for that. Hope to see you soon wherever it may be!"
Bernardo from Portugal (Discover Marrakech II)
"Here what Marrakech has done to me: it captured me in a sunny morning, while I was running with no direction, tearing away, with unexpected fury, an eternal smile!
PS: I'd like to put thousand of stars for this project!"
Beatrice from Italy (Discover Marrakech II)
"The only word that I have in my mind right now is THANKS, thanks to Gabri and Massi for their sweetness and spontaneity, thank to this project for what I have discovered and seen, it has been one of that experience that you don't want to finish. I want already to leave again with you! A big hug!"
Alessia from Italy (Discover Marrakech II)
"Maria you will join us to Discover Marrakech"?
Yes! For the 4 time I put my self in the hands of the project Let me Italian you and let me be led by the twins Gabriele and Massimiliano in his first discovery outside Europe. Marrakech: Prepare the senses for the old red city. Being involved in the heart of action, seduced at once by the mystic atmosphere, the people, the culture, the explosion of color, diversity of flavour, the smells, the sounds. The architecture, the rooftops, the souks. Ahhhh the endless souks: get lost but just keep going... and discover yourself in a new discovery. At last but not least, to see old friends, Adriana, Eleana, Samantha, Elisabeth! Meet new people. The support of amazing professional photographer's! Massi and Gabri you are building a big and great family indeed.
See you in Lisbon!"
Maria Teresa from Portugal (Discover Marrakech I)
"I just came back from my first Discover-Project in Marrakech and it truly was an amazing experience ! A lot of people from different countries coming together and having an awesome time while improving their skills, living their passion and taking awesome pictures! Letmeitalianyou gave me the opportunity to travel safely and well organised while exploring beautiful Marrakech and having an awesome time with many wonderful moments! Thank you so much for these perfect days in Morocco and see you soon in another project!"
Simone from Austria (Discover Marrakech I)
"Un'altra avventura con i gemelli, un'altra esperienza meravigliosa. Per me è stata la seconda volta e non posso che confermare le sensazioni positive che si provano a partecipare ad un progetto come questo. Circondato da persone che condividono la tua stessa passione, stimolato ogni giorno da stupendi compagni di viaggio e da artisti e fotografi affermati; se avete la possibilità non fatevi scappare questa occasione, non c'è modo migliore per affinare la propria tecnica fotografica."
Luca from Italy (Discover Marrakech I)
"Marrakech, the red city of Morocco, turned out to be a photographer's paradise. I had the great pleasure to be there with photography project Discover Marrakech and I would go there again, and again, and again to encounter this mesmerizing pallette of colours and shapes. Its streets full of people and cats, scents and sounds, colourfull fabrics and spices, make you feel astonished, seduced, overwhelmed, and angry at the same time. It was my third time with Let Me Italian You workshops, because they always provide the best adventure. In Marrakech, I've met fantastic people with the same love for travel and photography who showed me different perspectives on photography and inspired me to grow. And when you try this experience just once, it's really hard to stop."
Joanna from Poland (Discover Marrakech I)
"Lo dicevo da molto tempo di voler uscire dall'Europa, e grazie a Let me Italian you ci sono riuscita. Volevo scappare dai grandi palazzi, dai musei e da qualcosa di già visto: volevo vedere il nulla. Diciamo che Marrakech non è proprio la città adatta per vedere il nulla: il caos regna sovrano (caos organizzato in una maniera che conoscono solo gli abitanti di Marrakech, questo è certo). Dopo settimane devo ancora meditare su ciò che ho visto e sentito, è una città piena di stimoli, forse troppi. Ma è comunque un buon inizio per questo lungo cammino di cambiamento. Ammetto di aver scattato foto timidamente e con molto timore, chi mi conosce sa che cerco sempre di essere, se non invisibile, almeno di poco disturbo.
Alla prossima avventura."
Cecilia from Italy (Discover Marrakech I)
"I just took part at Discover Marrakech! My First time with a camera, my First time in Marocco: Everything was perfect! See you soon Super Twins!"
Cristina from Italy (Discover Marrakech I)
"Discover Marrakech, one of the best experience I've ever had! Great location, the hotel was very comfortable. About people, everyone was very nice and kind with me. See you soon guys!"
Michele from Italy (Discover Marrakech I)
"SUPER! Discover Marrakech was awesome! You need to visit the Red City once and you have to do it with Let Me Italian You crew! Amazing people, great experience! Thanks for all! See u soon guys!"
Andrea from Italy (Discover Marrakech I)
"Another amazing travel photography experience with Letmeitalianyou! This time with Discover Marrakech...5 days of photography and full immersion in Moroccan culture. Impossible to forget the sights and sounds of Marrakech, from the souk to the kasbah, from the tajin to the mint tea!"
Sarah from USA (Discover Marrakech I)
"Thank you very much Massi and Gabri for another and amazing project with You. For peculiar journey in time to the city where time stopped a few hundred years ago and where I had opportunity to meet wonderful people. Marrakech – a city of a thousand colors and smells, ubiquitous bustle, artisans, hypnotizing music and muezzin's singing calling for prayer. A place where shopping is a show and bargaining is an art and a way of life. At the same time, you can experience the peace of the riads, the view of the snowy peaks of the Atlas mountains and where there is always time for a glass of tea with mint."
Ludmila from Poland (Discover Marrakech I)
"DISCOVER Marrakech, my third DISCOVER adventure, my first time in Africa. The exoticism of Marrakech and the company of almost 30 photographer. Meet new wonderful people with the same passion. The opportunity to see to hear to smell the magic through a camera. As always the organization was perfect, I've really enjoyed this new Discover… Now it's time to get ready for the next one!
Grazie di tutto ragazzi, alla prossima!"
Marco from Italy (Discover Marrakech I)
"Participating in "Discover Marrakesh" project made my Moroccan photography dreams come true! This town is exceedingly lively, noisy, colourful. Motor scooters, cars, horse-drawn cabs and donkey-drawn carts flood the streets. On the narrow backstreets of medina you meet women in traditional dresses with their faces covered, men in djellabas and running kids. Palm trees, orange trees, olive trees and cactuses enhance the sense of Maghreb. During workshops, we – a group of photography enthusiasts from all over the world – photographed medina nooks, markets, small shops, lively eateries, mystic gardens, people, cats, motorbikes, cafes… Each of us made hundreds of photos, each of us in her or his own unique style. Each of us found something special and put it into own pictures. Street photo workshops with Isabela Vial and with Yassine Alaoui Ismaili emboldened us to look deeper than during casual sightseeing. Taking pictures of models in Menara Gardens learned us to appreciate the diversity of feminine beauty. "Discover Marrakesh" will be in my memory as an unforgettable experience, unique in every respect!"
Magda from Poland (Discover Marrakech I)
"My first time in Africa, the first day was very complicated for me. It was not easy to meet such a different culture, and to overcome the diffidence. Hearing the ideas of the different participants of Discover Marrakech is always very helpful to understand the point of view of other people, and the discussions help to grow. Thanks to Let me Italian you for this opportunity."
Eleana from Italy (Discover Marrakech I)
"Time spent in Morocco was wonderful. A beautiful city with a richness of colors and fragrances. Inspiring, an imagination stimulating place. Thank you Let me Italian you and all participants of the discovery Marrakech for this experience. I hope to see you all soon."
Anna from Poland (Discover Marrakech I)
"Marrakech is a dream and sometimes dreams comes true… this has been my second experience with Let me Italian You, the first one was in Barcelona! Everytime i enjoy this group of people, i can learn and discover at the same time… learn because the world of photography it's simply amazing, you can interact with the teacher but also with participants and always find new tricks and skills… discover because you can reach and see places that you couldn't visit on your own. Marrakech it's a colorful city, people are very kind and i think its the best city if you like to take some good pictures… its one of the most beautiful city that i'v seen in my life and i'm sure i will go back again, because there are a lot of things to visit! I really suggest you this place!"
Fabrizio from Italy (Discover Marrakech III)
"It's a whirlwind of wonderful emotions that has bound me and my colleagues in this experience of Marrakch 3. We were immersed in exciting colors that make light turn us photographers .. we were embraced by an available, smiling and full of history people described in their faces. We were pampered by our fantastic twins, who as always managed to unite different photographers but with a common denominator respect, friendship and involvement. experience to live .. highly recommended"
Matteo from Italy (Discover Marrakech III)
"It has been an unforgettable experience. Highly recommended! I
have fantastic proper in a magical and wonderful place. I hope to repeat this experience very soon. I'll miss you guys!"
Maria from Spain (Discover Marrakech III)
"Marrakech is a city full of colors, sounds, smells, emotions ...
I was very worried at the beginning, a little bit for everything; when you decide to leave alone you never know what will wait for you. It was a challenge. Result? Exceeded great. I think I've never experienced so many emotions like these days. I met people from 10 different nationalities, a very formidable group. An experience difficult to explain if you do not try it yourself. Thank you all for this fantastic experience. I left a piece of my heart there. I hope to see you guys again soon, anywhere in the world. A special thanks goes to the Let me Italian you twins, for giving life to all this.
We will meet again on the next trip!"
Roberta from Italy (Discover Marrakech III)
"I wish the world was filled with more such kind, nice and positive people like you pizzaholics! I'll always be keeping my fingers crossed for your success, you bring so many people together and create beautiful masterpieces. I had a wonderful, unforgettable time. Thank you for letting me get to know so many interesting people.
Can't wait for more editions!"
Adrianna from Poland (Discover Marrakech III)

"I didn't know what to expect from this trip when I agreed to come. So at the end this experience just overwhelmed me! The city itself with its colors and smells, the magic locations for the photo shootings, but the most importantly - the people! I've met so many kind, interesting and inspiring people just in five days! I had a lot of fun and will defined never forget this trip! Thank you letmeitalianyou for the perfect organization and planning, and especially, for taking such a great care of us! I felt part of the big, loud and crazy familia. I hope we'll see euch other soon and have some more crazy adventures together! Ciao Ragazzi!️"
Anastasia from Ukraine (Discover Marrakech III)
"Highly recommendable! I've been with them in Discover Marrakech III, and I would not change anything of the trip! It is the perfect combination between passion, traveling, knowing new cultures, new people. It is an unforgettable experience! You're the best!
Thanks ragazzi I can not wait to see you again and make new memories by your side knowing more places and wonderful people!
I wish you all the best!"
Judith from Spain (Discover Marrakech III)
"Marrakech it's such a beautiful place. Once again I've been enjoying another trip with Let me italian you and once again it's been an incredibly adventure. For the first time me and my two best friends were travelling together outside Europe and we were a bit nervous at the beginning but when we finally met all the grup it was amazing, you feel so confortable with kind people that worries about you. For me as a photographer and retoucher this kind of experiences are vital for my work, I had the opportunity to take great photographies thanks to the twins that organize everything to take us to the most beautiful places possible with the most beautiful models. They make a GREAT work together and I will be in more trips with these two as soon as possible, and yes, this is a threat. Thank you again for thinking of me to take part in this incredible experience."
Jessica from Spain (Discover Marrakech III)
"The worst part of a journey is the return home, to everyday life; It is above all to leave a land that, even if I lived for a few days, at the end you feel it like yours. Only a few days have passed since the experience in Morocco ended and I can confirm that the "Mal d'Africa" took over. I had the chance to live Marrakech with some wonderful people that I will carry in my heart, always. Thanks to Let me Italian you for giving me this wonderful opportunity, you are really special! See you soon!"
Veronica from Italy (Discover Marrakech III)
"During the project in Marrakech I was discovered a new culture, new colors, a new way of living. Everything was different from our world but it was an amazing experience! Thanks to the organization of Let me italian you I've seen beautiful places and I've met beautiful people. Thanks for the opportunity!"
Jessica from Italy (Discover Marrakech III)
"After the wonderful experience of Discover Barcelona V, after a year I decided to leave again with Gabriele and Massimiliano to Discover Marrakech. A city that is a chaos of people, colors, spices, markets, life! I was so lucky to meet and share this adventure with wonderful people. There is not two without three, see you soon Let me Italian You."
Federica from Italy (Discover Marrakech III)
"Interesting, informative, well-organized project - I'd advise it to everyone. Especially if you need an adventure, but you are scary to go alone or have no time to organize it. The DISCOVER Marrakech project is: An interesting and varied program - the narrow lanes of Medina, hidden there beautiful palaces, excursions and workshops. Four days in the company of surprisingly consonant people, in spite of different languages, different experiences, different cameras. Excellent organization - everything is thought out, every detail is provided. And all this is made by a fantastic couple - twins Gabriele and Massimiliano. Guys, I hope to participate in your projects again!"
Olga from Russia (Discover Marrakech III)
"Travel is an experience that changes you in everything. Learn to know your limits, your feelings, and your emotions. Everything is different. Compare yourself with different cultures, meet new people, strange languages and smells, colors, styles. But more than anything else it reinforces you. Every experience makes you feeling different, yes in the same body, but different in your soul. It's always worth it!"
Ilaria from Italy (Discover Marrakech III)
"Wow! The trip to Marrakech was so well organized. We visited a lot of fantastic places, the Souk was great for "street and Urban photograpy". We went to 2 fantastic palace's and had two fashion shoots with models, designers, make up artist and a professional fashion photographer who guided us. I learned a lot and made great photos. I have also got a lot of new friends with the same interest in photographing. It was such a great team changing experiences and ideas. Looking forward to meet some of them agin on Let me Italian you's next trip."
Elisabeth from Sweden (Discover Marrakech III)
"I was lucky, this photographic project gave me the opportunity to visit Marrakech in fluency and security. A truly magical place.
Thank you Let me italian you, for the competence and kindness, I never felt lonely, the transfers and visits were all taken care of beautifully. It could not be better! A group of beautiful people, all united by the same passion. A beautiful experience, certainly to be repeated. Thanks to Gabriele and Massimiliano, two really smart guys and I wish them to continue with their positiveness that distinguishes them. I recommend this experience to everyone, it will certainly be unforgettable, as it was for me."
Anna from Italy (Discover Marrakech III)
"Thank you for letting me experience this experience. You are able to put together good people, beautiful places and many opportunities to make unique photos, creating a wonderful combination of memories. I am very sorry that it ended so early, but I try to see the positive side, reliving through the photos what I experienced, who I met and especially thinking that as soon as I have the opportunity I will make another trip with you. (Barcelona maybe?). Thanks anyway for now. Everything was perfect and it is thanks to you and your passion for this job. Keep it up. I will continue to advise you endlessly."
Elena from Italy (Discover Marrakech III)
"I had a real pleasure to participate Discover Marrakech III .
For me it were a unforgettable days in a beautiful place with wonderfull team. I need more time to open before the unknown people but with you all I felt good. I think I can tell that it were intensive days, but even work was a really pleasure and I felt just like I spent time with friends. If you want visit beautiful places, take a good photos and meet new friends from all over world you should join any "Discover ..." organized by Let me Italian you.
I hope to see you all again. Arrivederci!"
Magda from Italy (Discover Marrakech III)
"Second experience with LET ME ITALIAN YOU, which I hope will follow many others!This time the destination was Marrakech .... "strong" experience a city very far from any European capital, immersed in its colors and traditions.In some aspects, it seems to make a leap into the past ..... characteristic places visited as well as food cooked in the typical tajine.
To this must be added the meeting with about 30 people from various parts of the world ... result? Something that stays inside you! See you next time!"
Vanessa from Italy (Discover Marrakech III)
"I wanted to thank you for this unforgettable experience! Above my expectations! All organized in detail and thanks to you I visited places that alone I would not be able to see. I met fantastic people, including you and I hope to be able to leave as soon as possible for a new journey to some other wonderful place. Smells, colors, people and emotions that I will always carry in my heart. Thanks letmeitalianyou, it is just the beginning."
Simona from Italy (Discover Marrakech III)
"I'm sure Marrakech is a magical city, because only magic can explain what you feel when you visit it. It's like doing a special journey inside your trip with all your 5 senses: from the eyesight, as it is so colorful, to the sound of prayers on the streets, and then the smells that lead directly to the traditional kitchen and its special flavors. It might be tough, maybe even a little scary, to approach this city made of contrasts, but once you got in the mood you will get used to it, and then fell in love with it. And if you think it's not enough, add the Let Me Italian You family, and you will have something more than perfect. Thank you twins, and thanks to all my travel companions for making the trip unforgettable!"
Chiara from Italy (Discover Marrakech II)
"After sharing a previous discover with nice people I wanted to repeat the experience and, of course I thougth in let me italian you. In addition, Marrakech is a city that I wanted to visit and, even the city is so different to aún European one and you can be out of place, when you get used to is antes amazing place. There were so nice people that share the same pasión, photography. So, nice place, nice people and same passion ends un a great experience where I met new people, new friends and be with old ones that met previously in another discover project. Finally, what to say about the twins. They have an amazing project, they can gather people together and make each trip a memorable experience. So, just thank you to them. Just waiting for the next discover and see you again. Thank you Gabri and Massi for making this real."
Bruno from Spain (Discover Marrakech II)
"I just came back from Discover Marrakesh!! It was an unforgettable experience. I meet so many wonderful people and we became a small international family during these couple of days. It was my first time with Let me Italian you and I would loved to join another project. Everything was well organized and we had a lot of fun. A big thanks to the Twins!"
Vivien from Germany (Discover Marrakech II)
"I decided to partecipate at the second edition of Discover Marrakech even if Africa is a Country in which I haven't been before and also I was a little scared of; but remembering the beautiful experience I've lived with Let Me Italian You in Discover Krakow last November, I booked my place to travel again. In Marrakech I've lived in a journey I will never forget. Massi and Gabri made all things perfect and it is not really easy in such a caothic place like Marrakech. They are really beautiful and kind and funny persons. Our twins are the only one in the world! Soooo special and patient also!The group of guys I met this time was amazing ! We have shared wonderful moments laughing, shooting and sharing our common love about photography, improving our skills with the Master Yan Pekar and also with local photographer Sala .. and beautiful model Fatima-Ezzahra Mech. Marrakech is a magical place … when we left the city we were crying for how much we will miss it and will miss the old and the new lovely friends. I absolutely recommend LetMeItalianYou; oh, you have to know I have already book my place to go with them in Discover Budapest Summer next July, if you are still in doubt this is not such an amazing Project."
Vanessa from Italy (Discover Marrakech II)
"The city of Marrakech is a mix of colors, people, animals, traffic jams, sunshine and thousands of handmade shoes, hats, bags, oils, perfumes that catch your eyes and nose instantly and never let you go. When you've just been gobsmacked by the absolute absence of rules and order through the streets, immediately after you are amazed by the smile of people that you've never met before. It's a strange city that fascinates the heart in a strange way. Let Me Italian You project puts together people from all over the world, and in just a few days you can learn a lot about photography, life and humanity itself. It's the second experience for me with this project and it's really going better and better. Many thanks to Massi and Gabriele"
Stefania from Italy (Discover Marrakech II)
"Discover Marrakech è stata una svolta, la prima volta in un nuovo continente che ho sempre voluto esplorare, l'Africa. Prima volta in un luogo tanto diverso da ciò a cui siamo abituati, cultura diversa, religione diversa, ambienti diversi, tutti da scoprire. Tutto questo è stato possibile grazie a voi ragazzi di Let Me Italian You che organizzate questi fantastici viaggi e permettete a noi appassionati di fotografia di accrescere le nostre conoscenze e di conoscere nuove straordinarie persone."
Lisa from Italy (Discover Marrakech II)
"Thanks to all of you for this great experience that I'll never forget It was a pleasure to share with you this trip and learn a lot of new things (not only about photography, even a bit of Italian language ). It saddens me that the experience has ended so quickly, but I hope to be able to share new moments with you very soon in another project. Thank you twins for all your efforts and your attention, for worrying about the welfare of the participants, and for making these projects better and better, not only for the new destinations, but also for improving the quality of the workshops, of which we have could learn a lot and improve in photography.
Ti mando tutti molti baci! Shukraan!"
Marta from Spain (Discover Marrakech II)
"My second experience with LetMeItalianYou has been unforgettable! Marrakesh is a colorful and wonderful city and they allowed me to see it. These two guys have created the opportunity to travel, to improve yourself as a photographer and to meet beautiful people with the same passion. There are no words to describe it! These projects have given me the will to travel more and more...so I can just say thank you twins and see you soon."
Elisabetta from Italy (Discover Marrakech II)
"Discover Marrakech II was my second project with Lemeitalianyou. Marrakech is such a vibrant and colorful city, it's a perfect place for photography lovers. Get ready to get lost in the souks! As usual the twins were kind and helpful and always trying to keep the group satisfied.
This new adventure was really fun, thanks guys !"
Hailie from France (Discover Marrakech II)
"L'unica parola per descrivere questa avventura è indescrivibile! Indescrivibile l'atmosfera, la cultura, i colori di una terra nuova è meravigliosa. Indescrivibile la sintonia che si crea tra persone sconosciute legate dalla stessa passione... ma soprattutto indescrivibile l'amicizia creata, la dolcezza e la super organizzazione di Gabri e Massi!
Grazie davvero di tutto! Vi si vuole bene!"
Valentina from Italy (Discover Marrakech II)
"In late (as always) but here I am. It is hard to explain in words what Letmeitalianyou us and what has been Discover Marrakech II. Cause it was a rush of pure emotions, true ones; sensations, fragrances, colors, moments, gazes, smiles, tears (the beautiful ones). Everything as so intensive, some days in a temporal space bubble that it seems it lasted for months, very close relations born with just a laugh, the one that make you a stomach ache. Thank is not enough to have created this magic, my dear twins. And forever, Discover Marrakech and you, will have a fix place in my heart!"
Federica from Italy (Discover Marrakech II)
"Very happy about this experience in Marrakech! Wonderful people, wonderful visits, a good discovery of the country, good photo workshops overall. Thanks to Gabriele and Massimiliano for their immense kindness!"
Lolita from France (Discover Marrakech II)
"Metti un viaggio improvvisato in un paese sconosciuto, la paura e l'ansia che sempre ti porti dietro. Metti che invece, inaspettatamente, vieni travolta dalle emozioni, dai colori di una terra meravigliosa. E ancora più inaspettatamente arriva l'amicizia, quella vera, quella rara, come un pugno nello stomaco. Talmente forte da far venire le lacrime agli occhi. Il cielo diventa più vicino e l'anima si fa leggera. Tutto ciò che rimane ha un sapore meraviglioso e rimarrà impresso nella mente in maniera indelebile. Un pezzo di cuore è con ognuno di voi. Sorrido. Grazie!"
Barbara from Italy (Discover Marrakech II)
"I grazie non saranno mai abbastanza, ma spero ci saranno altre città da scoprire insieme! Ho partecipato a Discover Marrakech IV insieme a mia madre! È stata un'esperienza UNICA grazie ai twins, che sono stati capaci di creare un gruppo unito e affiatato! Disponibili alle esigenze di tutti, ci hanno donato giorni indimenticabili e luoghi da fotografare spettacolari!"
Sofia from Italy (Discover Marrakech IV)
"Son trascorsi giorni eppure Discover Marrakech mi risuona in mente e nell'anima. Oltre ai colori, suoni e sapori della splendida terra del Marocco, sono le meravigliose persone conosciute in questa esperienza unica ed originale, che hanno il sopravvento nei miei ricordi. Bello sperimentarsi assieme camera alla mano e confrontarsi piacevolmente tra uno scatto e l'altro! Let me Italian you è una formula fantastica ben congeniata e concretizzata con un'attenta cura a tutti i vari aspetti. Onore al merito a Gabriele e Massimiliano persone deliziose, con la loro gentilezza e disponibilità ben ti accolgono e ti mettono a tuo agio. L'atmosfera che si viene a creare, con il filo conduttore della fotografia, rigenera e dona energia vitale allo stato puro. Tutto indimenticabile ed indelebile anche per la straordinaria partecipazione di mia figlia che ha respirato, insieme a me, di tutto e di più di questo incantevole workshop. "
Roberta from Italy (Discover Marrakech IV)
"Marrakech is not only a city, it is a life experience: a perfect mix of colors, perfumes, feelings, emotions, people, chaos, eyes, flavors and lights. Probably, alone I would have lost myself in the confusion but thanks to Gabriele e Massimiliano planning and programming , I could live this city in its fullness and diversity. I made a dream come true: to visit and stay in Marrakech. If this was possible it is only thanks to Let Me Italian You Family.
So, if you have a dream, do everything to make it happen and choose Let Me Italian You: the best dream makers. "
Veronica from Italy (Discover Marrakech IV)
"Marrakech was my dream for a long time. A dream which came true! Visit to this place was one of the best decisions in my life. Marrakech is a great place for photographers who want to capture colors and emotions of a daily life. There was only one sad moment ... when I realized that I had to leave this place and go home. Marrakech ... we will see each other again soon! You are amazing. I recommend with all my heart! Great people, great place and of course great organization! It was a big pleasure to be with You again."
Paulina from Poland (Discover Marrakech IV)
"Discover Marrakech, ho avuto modo di conoscere e vivere una città splendida grazie all'ottima organizzazione dei migliori twins che conosca! Questo è il secondo progetto al quale ho partecipato con loro e devo dire che anche questa volta sono soddisfattissima. Gli odori, i colori, le persone affabili e quelle facilmente suscettibili, i numerossimi gatti, le contrattazioni, le lampade, gli accessori e tutte le altre cose rimarranno ricordi indelebili. Grazie di tutto! Alla prossima!"
Alessandra from Italy (Discover Marrakech IV)
"Discover Marrakech IV : Women Power Edition I started my first experience to visit Poland and Barcelona with Let me Italian You team, and continue to this again with same team for my first time in Africa, Marrakech! Marrakech is a beautiful chaos. This vibrant city is filled with people and things, also city town is like a labyrinth. But I didn't need to be afraid with my best team and friends. I took a lots of colorful memories with creative and friendly energies which are much more valuable than treasures!"
Yuu from South Korea (Discover Marrakech IV)
"Ooops! I am a little bit confused. Who is who? However, I am not at all confused about choosing to be part of Discover Marrakech 4 project with you guys! It was an amazing experience, we had a lot of fun, developed new photography skills and discovered the contrasting life of Marrakech together. Thank you for everything!"
Andreea from Italy (Discover Marrakech IV)
"DISCOVER is the right name. With the twins, cities, cultures and people are discovered and known. One is the keyword: PASSION. They put passion into what they do and that's what they ask to partecipate in these projects. During the three projects I attended, I met 1000 people and consequently 2000 eyes: these are the mirror of the soul and once you can see them a world opens up to you. Thank you because for me this means travelling and through photography I can capture this feeling. See you in some next destination Let Me Italian You!"
Giulia from Italy (Discover Marrakech IV)
"Hello to everyone! First of all, I want to say one more time thanks to guys that they had written me and invited me to join them in their project! Then, I would like to say that I'm so happy that met very nice and kind people in this trip to Marrakech, it was very fascinating, interesting and full of new emotions project! Thank you, guys, I hope we'll repeat it someday."
Ester from Russia (Discover Marrakech IV)
"Un giorno ricevo un messaggio da una mia amica. Una proposta che forse dentro di me aspettavo da un po'. Le parole che volevo leggere erano proprio quelle: "VIAGGIO" e "FOTOGRAFIA". Così è stato! Sono partita con Let Me Italian You per Marrakech, uno dei tanti posti che era scritto nella mia lista dei desideri. Adoro viaggiare e una delle mie passioni più grandi è la fotografia. Amo stare lì a sperimentare, catturare ogni piccolo istante, scatenare la mia fantasia e mettermi alla prova per riuscire ad ottenere la foto giusta che meglio racconti quel preciso momento. Questi giorni in Marocco sono stati bellissimi! Ho incontrato un gruppo di ragazze piene di voglia di imparare e che guardavano le cose con i miei stessi occhi pieni di entusiasmo! Ringrazio tutte voi per la piacevole compagnia e per l'amicizia che è nata tra noi. Ringrazio le bellissime e talentuose modelle che ammiravo dall'obiettivo della mia macchina fotografica. È stato un piacere fotografarvi e conoscervi. Siete fantastiche! Ringrazio Paula Dietz Rauber la nostra coach professionista che ci ha trasmesso un po' del suo sapere e un po' di trucchetti con il suo interessante workshop. Ma un ringraziamento speciale è rivolto ai nostri gemelli del cuore, Massi e Gabri che ci hanno accompagnato in questo viaggio alla scoperta di Marrakech. Mi sono trovata benissimo con voi e sono sicura di unirmi a voi presto per una nuova avventura! "
Debora from Italy (Discover Marrakech IV)
"I found out about Letmeitalianyou by chance, but I was immediately intrigued by their enthusiasm. As Discover Marrakech was my first Discover project, I didn't know what to expect by it, but now I can surely say that it was one of the best experiences I had so far. I had the opportunity to learn from a professional photographer and from my travel companions, I challenged myself in doing kind of photos that I've never tried before, made new friends, visited a country in which I would have never gone by myself. To sum up: I loved every single moment of it, and I'm already looking forward to the next Discover project somewhere around the world!
Thank you Gabriele and Massimiliano for this great opportunity."
Giulia from Italy (Discover Marrakech IV)
"Thank you very much Massi and Gabri for one wonderful adventure in Marrakech, I will remember it forever!! You guys are to fantastic persons and I'm very grateful and proud to be a part of this Letmeitalian family. Photography, travel, meeting new people and make new friends is awesome combination, and every goals where active once again!! I will definitely join you guys in more Discover events in the future."
Fiona from Ivory Coast (Discover Marrakech IV)
"Thank you very much Massi and Gabri for one wonderful adventure in Marrakech, I will remember it forever!! You guys are two fantastic persons and I'm very grateful and proud to be a part of this Letmeitalian family. Photography, travel, meeting new people and make new friends is awesome combination, and every goals where active once again!! I will definitely join you guys in more Discover events in the future!"
Maria from Portugal (Discover Marrakech IV)
"Non voglio dimenticare niente, voglio solo ricordare, raccontare delle cose viste e vissute, delle storie non raccontate ma immaginate, di tutto ciò che il mio cuore ha provato anche quando non riusciva a parlare. Mi mancheranno i dialoghi in più lingue, il capirsi con i gesti e le parole scambiate, le risate a crepapelle, il caldo del deserto, il sole che spacca, il relax in piscina, le camminate tra le strade de la Médina e i riad oasi di pace e tranquillità, il traffico confusionario, l'odore è il sapore delle spezie, il cielo all'ora del tramonto come un dipinto, il blu majorelle, le palme altissime, i colori che uniscono una città piena di paradossi ma indimenticabili. Grazie ragazzi ancora una volta a Let me Italian you; grazie agli avventurieri come me, a noi ragazze giovani e forti, grazie a tutti e grazie ovviamente Marrakech , all'inizio non l'avrei detto ma ora posso dire che prima o poi se potrò ci tornerò."
Roberta from Italy (Discover Marrakech IV)
"Era da tempo che non mi stupivo in un viaggio. E' stato un'esperienza forte ed entusiasmante. Ho conosciuto ragazze fantastiche con cui sono entrata da subito in sintonia e con cui spero non perderò i contatti. I twins sono stati eccezionali, organizzati e sempre pazienti ed educati. Un'esperienza che consiglio e Marrakech è una città talmente controversa e spettacolare che è assolutamente da vedere almeno una volta nella vita! Motivo per cui vedrete tante tantissime foto su Marrakech! Grazie Let me Italian you ed alla prossima avventura!"
Carmela from Italy (Discover Marrakech IV)
"Even this experience in Marrakech did not disappoint my expectations! Gabriele and Massimiliano always impeccable.
See you next guys!"
Alessia from Italy (Discover Marrakech III)
"Discover Marrakech. First round in the souk, the soul and the heart of the city. You are impressed by the colors, the smells and the thousands of people who work and sell their products. Carpets, spices, typical products, women who cook. Every trip with @letmeitalianyou changes you, you know people and different places that you will surely miss, exchange opinions with photographers from all over the world and shots with amazing models."
Chiara from Italy (Discover Marrakech III)
"Discover Marrakech was my third trip with the guys and I have to say everytime I have feeling that the last edition was the best and everytime they manage to make it better. Marrakesh very is beautiful, colorful, full of nice people and I absolutely loved it. Meeting new people and spending time with your friends in this amazing place is something I will never forget. Thank you Massi and Gabi for this incredible opportunity and see you next time!"
Martina from Slovakia (Discover Marrakech V)
"It's a little hard for me to describe such a wonderful experience, as Discover Marrakesh was. It was a real melting-pot of emotions, sensations, experiences: an enriching adventure. No matter if you are tired, angry, or simply in a blue mood: you find yourself surrounded by unfamiliar and incredible sounds, scents, colours, voices and you crave for something completely new. Everything gets inspirational, putting your mind at ease. Furthermore, the most surprising fact was that all the time I grabbed my camera, I could find myself next to a more experienced and skilled photographer, but never feeling any sort of competition, or embarrassment. Everybody was there to give me the right suggestion, an inspiring tip, or simply to genuinely appreciate my work. It's almost a mystery how many people from different backgrounds could easily melt and create strong bonds. I did feel included, I do feel I am changed."
Federico from Italy (Discover Marrakech V)
"I participated in Marrakech V. Marrakech is such a fantastic, colourful and photogenic city. I fell in love immediately and had so much fun photographing in the souks and exploring all the great mosaics. In the awesome environment of a beautiful Riad and the luxurious Palais Rhoul I had for the first time the chance to shoot professional models. Our great photographer teacher Iveta Kulhava supported me quite well, I could ask her a lot of questions and she gave me great tips how to improve my photos. The whole trip was a great experience and well organized by the twins. I felt to be in good hands and very valued. Thanks a lot for the great time. I'm looking forward to joining
Let me italian you again!"
Marina from Germany (Discover Marrakech V)
"My name is Marisol, and I had the honor of participating as a photography model in the wonderful IV edition of Discover Marrakech. It has been the first time I have worked with 'Let me Italian you', and for me, it has been one of the most pleasant experiences I have lived. Gabriele and Massimiliano are wonderful professionals, they formed an exceptional team in every way; impeccable planning. During our stay we had the great opportunity to visit dream locations through guided tours sharing unique moments, as well as having the collaboration of a prestigious photographer and international models. Of course, they were taking good care of all of us in the best possible way in everything we need. These are some of the details that make your projects unforgettable and remain in the memory of those who lived it. I recommend it from my heart, because it is a different and enriching way to discover the world accompanied by people with the same concern, where at the same time everything that captivates us is captured through the art of photography. We will see each other again, thanks from the soul. "
Marisol from Spain (Discover Marrakech IV)
"Marrakech, one of the most magical cities in our world. My first and second time at Marrakech, as motivation to travel to Morocco, always with Sicilian twins, never disappointed me. Everyone asked if I am not afraid to travel alone in Morocco, but I learned a lot cause my final destination were always Marrakech with my friends! I am really glad that I have chance to discover this city with good friends, best team and amazing photo teachers!"
Yuu from South Korea (Discover Marrakech V)
"Rientrare da un Discover organizzato da Gabri e Massi, o come li chiamiamo noi della letmeitalianyou family "i twins", è sempre tanto malinconico. Con Discover Marrakech V ho raggiunto la quota di tre progetti insieme a loro e ogni volta che torno a casa, torno con la consapevolezza che qualcosa in me è cambiato, anche solo leggermente, e ritorno con occhi diversi e un bagaglio culturale totalmente nuovo e ricco di esperienze uniche, anche per il fatto di incontrare persone sconosciute con la tua stessa passione e per quei pochi giorni diventano immediatamente una piccola famiglia con cui condividere queste magnifiche esperienze e tutto si ferma in quegli istanti. Marrakech è sempre stata una delle tappe che prediligevo e il fatto che ci sia stata e sia già passata così velocemente mi intristisce un po', ma sono anche contenta perché i tanti aspetti che la contraddistinguono da una città europea come i suoi colori, i suoi mille profumi, il suo essere tanto caotica come nel traffico e nelle piazze, l'aspetto contraddittorio di vedere da una parte riad e palazzi sontuosi e dall'altra la povertà in mezzo alla strada, nei suq, ma che, nonostante ciò, vivono nella loro quotidianità normalmente, mi hanno fatto amare questa città ma soprattutto mi hanno convinto ancora di più che questa è la strada che voglio intraprendere nel mio futuro, viaggiare insieme alla fotografia e i twins con questi discover mi stanno dando l'assaggio di un futuro che pare incredibile e veramente meraviglioso. Quindi il mio consiglio è: viaggiate. Viaggiate tanto, non abbiate paura di prendere un volo da soli, magari per la prima volta, e di andare incontro a cose nuove e sconosciute, scoprite, sperimentate e sicuramente insieme ai twins avrete un motivo in più di farlo perché la combo viaggio, fotografia e incontrare nuove persone con la stessa passione è qualcosa di veramente indescrivibile!"
Sara from Italy (Discover Marrakech V)
"Nella mia esperienza a Marrakech mi sono trovato benissimo. Nella piazza principale riescono a venderti di tutto e poi c'è una varietà di cose adsurda, serpenti, scimmie, camaleonti, pesci strani, chi canta, chi balla, chi suona, chi vende, chi fa le acrobazie e chi fa la lotta..Una delle parti più belle è stata il souk, che si trova nella parte povera, è il mercato locale più grande, ed è una sorta di labirinto organizzato in vie strette strette, affollate e in cui passano anche i motorini. C'è una varietà di colori spettacolare, mentre si gira nel souk, si sentono odori nuovi di spezie strane, fumi, incensi, sapori mai provati, colori dappertutto, oggetti mai visti prima, tessuti, è stata un'esperienza unica! Il tutto accompagnato dai ragazzi di letmeitalianyou che sono stati sempre disponibili e gentilissimi, i workshop sono stati molto belli e ho imparato qualcosa di nuovo grazie a Iveta, che ci ha assistito nel momento di scattare e ci ha guidato negli scatti di moda nei Riad. Un'esperienza che sicuramente consiglio a tutti!"
Francesco from Italy (Discover Marrakech V)
"Marrakech was my first trip out the UE, i was scared but i was consoled because i was leave with letmeitalain you. I didn't know anything about Morocco until I was there. I pulled them out 100% of my photography skills, I've met new friends. already on the second day I no longer missed my home because i was with my second family, togheter. the cultural transition was difficult but I learned new uses and customs. Salam Aleikum!"
Matteo from Italy (Discover Marrakech V)
"Marrakech was the most exotic Discover that I've done It's not to far from Europe and it's amazing how you feel inside Africa even if you are in the North of the continent It was really really really a rollercoaster of tastes, lights, sounds, people and photos Sometimes it seems totally different from Europe, sometimes you would say "Are we sure to be in Morocco?" cause there's so many things that are the same, but the beautiful ones are the typical. I was like ipnotized the first days by the incredible power of the city to feel you part of the city, you're not a tourist, you're not a photographer, you're part of Marrakech, and this is something difficult to feel in another place I will return for sure in Morocco and Marrakech!"
Riccardo from Italy (Discover Marrakech V)
"Let me Italian you gave me a unique experience of Marrakech in their fifth edition. Not just an ordinary tour of the city and taking a few nice photographs but a real understanding of why I love travel and photography combined. A guided tour of Marrakech, workshops on how to improve our photographs from portraits to food and best of all new friends to share the experience with who have a like-minded interest! Gabri and Massi couldn't have organised a better photography project and I felt welcomed always for my first Let Me Italian You project. 100% would come again on their future editions. These guys sure knew how to give the best experience of any place possible!"
Alyssa from Phillipines (Discover Marrakech V)
"Just returned from another LetMeItalianYou trip, this time to Marrakech, Morocco. An excellent few days filled with photography, sightseeing and spending time with like-minded people. Excellently organised as always. I had a wonderful time - learnt a lot, explored a new city and came away with new international friends.
Can't wait for my next discovery trip."
Claire from UK (Discover Marrakech V)
"We got a lot of bright, unforgettable, positive impressions and emotions from a trip to Marrakech with the team Let me Italian. Thanks to this trip, we met a lot of people from different countries. This is an experience that everyone should have. Let me Italian is definitely a team of professionals in their field. Thanks a lot!"
Olya & Olesia from Russia (Models - Discover Marrakech V)
"Non ci sono mai parole ma solo tante emozioni quando torno a casa dai viaggi con voi. Il tempo vola, è mercoledì ed in un secondo è già tempo di tornare a casa. È bello mescolarsi con gente così diversa che arriva da ogni parte, un'altra lingua. E oltre alle amicizie incredibili che ho avuto la fortuna di trovare in soli 12 giorni, ho imparato tantissimo anche dai grandi fotografi con cui ho avuto la fortuna di lavorare. Tutto questo sullo sfondo di meravigliose città. Quindi L'unica cosa che mi viene da dire è grazie per aver reso possibile tutto questo!"
Camilla from Italy (Discover Marrakech V)
"I attended Discover Marrakech 2022 and it was my first experience with Let me Italian You, and my first time in Morocco! Massimiliano and Gabriele have been fantastic, both in the organization and empathically. They always manage to make you comfortable. I left with a friend of mine and we found ourselves really well. I love the people that I met during those days, I feel I have improved my English a little. Marha, our landscape and portrait workshop teacher was nothing short of exceptional, I learned new things and will always be grateful for these opportunities. I will certainly participate in other editions because I have been at home since the first day. Thanks for everything! Traveling is living fully, it is knowing yourself more and more. We will meet again soon! Thank you for all!"
Angela from Italy (Discover Marrakech VI)
"I participated in the "discover Marrakech 2022" edition and it was one of the most beautiful experiences of my life. Gabriele and Massimiliano organised everything in detail and made this experience unforgettable. Thanks to them I met a new culture and above all the incredible people with whom I shared this adventure. It's an experience that I recommend trying, in the name of photography and fun. During our stay in Marrakech we had the opportunity to participate in portrait and landscape photography workshops with photographer Marha Valeseca Ruiz, who was very good at explaining the secrets of these photographic styles.
I can only thank Gabriele and Massimiliano once again for the beautiful people who are and for making me live this beautiful experience!"
Elisa from Italy (Discover Marrakech VI)
"Hi, I am Sylwia and I am from Poland. I participated in the project as a model. It was truly a great experience. The trip was very well-organized.
The workshops took place in beautiful locations, and the instructors were extremely knowledgeable. I have fond memories of this trip. Extraordinary people, wonderful energy, and a completely new culture. It was a great experience to explore a new place with people who share the same passions as you do! It was wonderful, and I highly recommend it to anyone interested in photography. I hope to see you again."
Sylwia from Poland (Model - Discover Marrakech VII)
"Discover Marrakech was the best experience I've ever been.
First time as a model and it was so fun because of the whole atmosphere. We saw so many beautiful places, took so many photos and spend the best time. I recommend to everyone!"
Patrycja from Poland (Model - Discover Marrakech VII)
"Anche stavolta abbiamo scritto una nuova magica pagina con
Let me Italian you.
Ma che belle emozioni che rimarranno indelebili in ognuno di noi!
Grazie di cuore gemelli.
Every time I feel like I've lived a dream! Thank you guys!!!"
Cinzia from Italy (Discover Marrakech VII)
"Discover Marrakech: un sogno che diventa realtà!un'altra bellissima esperienza con Letmeitalianyou. appena tornata e non vedo l'ora di scoprire la prossima avventura dove mi porterà!"
Sonia from Italy (Discover Marrakech VII)
"Marrakech is my 5th project with Let me italiano you, the most beautiful and fascinating ever! Despite the large group, the twins were attentive and splendid organizers who managed everything in the best possible way. Another opportunity for new photo shoots and new nice encounters.
Thank you guys!!!"
Cinzia from Italy (Discover Marrakech VII)
"Ho desiderato di partecipare al progetto Discover Marrakech per più di un anno, quando Massimiliano mi ha avvisata non ho neanche controllato le date, mi sono assicurata un posto e ho prenotato. Marrakech mi ha riempita e svuotata allo stesso tempo. Le prime 24 ore sono state un mix di emozioni, paure e meraviglia che mi hanno spiazzata a tal punto di non riuscire quasi a scattare foto. Durante il nostro primo tour, eravamo al Baiha Palace, Massi ha notato che non scattavo come mio solito ed é venuto a chiedermi cosa non andasse, quella sua semplice domanda con la sua solita gentilezza, mi ha sbloccata ed é stato tutto in discesa. Il caos, l'energia, i colori della città e gli occhi di chi la popola, in un primo momento mi avevano spaventata e svuotata delle mie solite energie, le stesse energie che poi sono tornate grazie ai gemelli e alle persone che ho incontrato in questo viaggio che hanno colorato anche di più questa città. Massimiliano e Gabriele hanno creato "un posto sicuro" per chi ama la fotografia e i viaggi. Hanno creato una comunità di anime pure mosse dalla curiosità e dalla passione. Durante pochissimi giorni si creano connessioni difficili da spiegare, persone e posti che non sono tuoi diventano parte di ciò che sei. Marrakech é il secondo progetto a cui partecipo e spero di viverne molti altri presto."
Rosamaria from Italy (Discover Marrakech VII)
"If you wish to improve and build upon your photographic skills, on a friendly, inclusive and well organised course, then this is the place to be. Gabri and Massi, the organisers will provide you with a range of visits to photogenic locations, which are well planned and instructive. Experienced keynote speakers, will enhance your techniques and professional models will be available in order for you to practice portraiture. My wife and I have taken several courses in different countries. Each has been different in content, context and location. Gabri and Massi have the ability and skills to make the group 'gel' and we all come away feeling that we belong to a 'family'."
Kenneth from UK (Discover Marrakech VII)
"Marrakech. Fino a quando non mi sono seduta sull'aereo vicino alla mia amica mi sembrava solo il nome di una lontana città africana che avrei potuto vedere unicamente in foto. Grazie a Massi e Gabri ho avuto modo di conoscere un mondo completamente nuovo in tutto il suo fascino: dalla tranquillità dei giardini caratteristici alla frenesia del Souk, dai colori delle piazze ai profumi e ai sapori delle spezie, dall'imponenza dei palazzi all' unicità dei resort. Il tutto accompagnato da meravigliosi tramonti sorseggiando tè alla menta sulle terrazze panoramiche con vista sulla città. L'esperienza è stata arricchita dai miei compagni di viaggio che non solo mi hanno fatta sentire a casa, ma hanno anche reso questa avventura davvero indimenticabile."
Martina from Italy (Discover Marrakech VII)
"Far parte della famiglia di Letmeitalianyou é per me una gioia immensa e un grandissimo onore. I due organizzatori, Massimiliano e Gabriele, sono due persone fantastiche: descriverli come delle persone simpatiche, pazienti e dolcissime é riduttivo! Dal primo Discover a cui ho partecipato, a Lisbona, é stato un crescendo perché ho stretto delle amicizie fantastiche, ho visitato posti diversi e meravigliosi potendo migliorare le mie doti fotografiche e ogni volta che torno da un viaggio con letmeitalianyou ne vorrei programmare subito un altro. Raccomando a tutti di provare almeno un Discover...sono sicura che poi non se potrete più fare a meno!"
Giulia from Italy (Discover Marrakech VII)
"If you're looking for a trip that combines both photography and travelling, Letmeitalianyou is your best choice. I had the opportunity to travel with the twins for the second time and it has been just as exciting as my first project. I was a little sceptical to go alone to Africa, but I've always wanted to and when I had seen last year that they organize a new edition of Discovery Marrakech, I knew that I will participate. This way it was safer but also much more fun. And honestly, I don't know if I would have survived the traffic of Marrakech if it wasn't for our group (just kidding). The people that are taking part in these projects are always so open-minded and so so friendly. Even though you may think that it's a project mainly open for italians, it is definitely not true. You could find people from all over the world and I am grateful for all the people I have met during these two projects. Grazie mille."
Teona from Romania (Discover Marrakech VII)
"If you love photography, travel, and the opportunity to spend time with friendly people from all over Europe, letmeitalian you is the perfect choice. Marrakesh was my fifth project, and, although I didn't think it would be possible, was even better than the previous four. Gabri and Massi organise everything perfectly. We visit places we could only dream about photographing. We have the opportunity to shoot beautiful models in fascinating locations and listen to lectures from talented photographers. Best of all, it is fun. I am decades older than many of the group who are just starting their careers. However, that didn't make a difference. They were all warm and inclusive. So, thank you again, Gabri, and Massi for giving me this opportunity and for helping to create such perfect memories."
Marylin from UK (Discover Marrakech VII)
"Ebbene si, sono partita per la prima volta sola, io e il mio zaino. La cosa all'inizio ha destato in me non poca preouccupazione e una leggera ansia che credo sia normale. Ma poi ho pensato che non ho mai fatto una cosa per me, che da qui dovevo evadere alcuni giorni e ho riflettuto su quanto nel viaggio e nella vita in generale si tende a portare dietro cose e persone superflue. Così grazie all'opportunità data da @italian_twins_around e @letmeitalianyou ho deciso di vivere questa avventura a Marrakech. Ho prenotato i biglietti (con 9 ore di scalo sola a Madrid) e sono partita con un solo bagaglio a mano e tanta voglia di conoscere persone, culture e paesaggi nuovi. È stato strano e liberatorio al tempo stesso ma è un'esperienza che consiglio a tutti di vivere almeno una volta. Ti senti un pó più forte e in grado di poter fare tutto,senza aver bisogno necessariamente di qualcuno accanto. E poi li ho incontrato un gruppo stupendo. Condiviso dei frammenti di percorso con loro. Ho amato i colori e i tramonti di Marrakech e il tè (la mia droga). Insomma sono grata per tutto ciò.
Spero ci sarà di nuovo occasione prima o poi."
Sara from Italy (Discover Marrakech VI)
"Un viaggio classico in un posto unico come Marrakech. La vista è stata costantemente riempita dall'immensità delle medine, spezie, tramonti, cammelli, raid, souk, motorini e dalla folla che è impossibile evitare. Sono rimasta davvero colpita dall'ospitalità, semplicità dei vecchi lavori a mano ormai spariti nel nostro continente, dai colori accesi che ti rallegrano la giornata, dai sapori che non ti fan pensare alle calorie per qualche giorno ma ti sollevano l'umore e da tutte quelle emozioni e sensazioni che questo luogo mi ha regalato. Un'esperienza e un'organizzazione pazzesca che consiglio vivamente di fare soprattutto perché con Massimiliano e Gabriele non ci si annoia mai. Al prossimo discover!"
Marta from Italy (Discover Marrakech VI)
"What an amazing experience, everything was perfect.
Thank you so much!"
Janaina from Brazil (Discover Marrakech VI)
"Quite an interesting experience, first time in Africa for me.
Some things shocked me some others reminded me of my home country. Thanks for everything guys!"
Emiliano from Perù (Discover Marrakech VI)
"Ciao ragazziiii Noi stiamo per partire. Grazie di tutto,è stata una bella esperienza...speriamo di rivederci presto , un abbraccio!"
Carla from Italy (Discover Marrakech VI)
"Volevo ringraziare te e tuo fratello. È stata una bellissima esperienza,
ci avete fatto sentire un gruppo fin da subito.
Grazie ancora.
Chissà che non ci vediamo a Santorini!"
Carla from Italy (Discover Marrakech VI)
"Ho partecipato a 'discover Marrakech '22 ed è stata la mia prima volta con Let me Italian you. È la scelta migliore che abbia mai potuto fare! Un'esperienza fantastica grazie all'organizzazione e alla disponibilità di Gabri e Massi. Ho conosciuto una nuova cultura e nuove persone stupende con cui ho condiviso momenti indimenticabili. Inoltre, grazie ai workshop fotografici, ho appreso informazioni che non conoscevo. Super consigliato dato che torni a casa sicuramente con un bagaglio di conoscenze in più! Spero di partecipare al più presto ad un prossimo progetto con loro. Grazie!"
Sara from Italy (Discover Marrakech VI)
"For sure one of the most interesting experiences of my life, and I'm grateful you made to realize it! A big thanks to Gabri and Massi to be always such amazing organisers, I'm looking forward to seeing you soon, it's always a pleasure to travel with you guys!! And a special thanks to our amazing teacher Marha for all the tips and lesson and for your friendship hope to see you very soon as well! And of course thanks to all of you guys for all the moments shared together!"
Simona from Italy (Discover Marrakech VI)
"Non sei tu a scoprire Marrakech, è lei che ti travolge a partire dal colore della terra che osservi mentre sei in volo così diversa, così scura, così lontana dal verde presente in Italia...Quanti colori, profumi e stimoli da questa città avvolta dal caos e popolata da abitanti rumorosi, che ti schivano e sfrecciano su motorini con caschetti che sembrano provenire dal passato. Marrakech sembra un viaggio nel tempo, vive in un' epoca tutta sua: un'epoca che si intreccia alla modernità occidentale. Da un lato gli artigiani e i mercanti del souk, le carrozze con i cavalli, le scimmie, gli incantatori di serpenti, i cammelli e i mendicanti per strada...dall'altro la ricchezza dei Riad, gli hotel e i brand di lusso. Il divario tra ricchezza e povertà è evidente ma i sorrisi degli abitanti e la bellezza della città lo alleggeriscono e così vivi in un sogno lontano dal tempo, respirando un aria nuova, ascoltando la lingua araba ed osservando le persone e la terra che ti circondano avvolti da un velo di eleganza e mistero."
Paolo from Italy (Discover Marrakech VII)
"Grazie come sempre della bellissima esperienza! Marrakech è una città stupenda, piena di cose e persone interessanti. Siamo riusciti a fare degli scatti pazzeschi e visitato posti incredibili. Le location degli shooting una più bella dell'altra. Grazie Gabriele e Massimiliano, siete sempre una garanzia!"
Nicole from Italy (Discover Marrakech VII)
"È il secondo viaggio che faccio con i ragazzi di let me italian you e sono davvero contenta di aver passato quattro giorni in Marrakech con loro e scoprendo una città così bella, piena di colori e di una cultura diversa. Ritrovando anche amici del viaggio precedente.
Spero di rivivere questi momenti in un altro viaggio! A presto!"
Martina from Italy (Discover Marrakech VII)
"Esperienza indimenticabile, accompagnata da bellissima gente e posti incantevoli, non avrei mai pensato di stare così bene in poco tempo e di imparare così tante cose. Non pensavo di divertirmi così tanto anche durante le ore di lavoro, invece mi sono dovuto ricredere, istruttori molto professionali, disponibili dove è un piacere partecipare. Non vedo l'ora di partecipare ad una prossima edizione e di imparare cose nuove."
Federico from Italy (Discover Marrakech VII)
"Fare quest'esperienza è stato fantastico, non mi sarei mai immaginata di incontrare due ragazzi come Gabri e Massi, disponibili, gentili e a cui ci siamo affezionati subito. È stato un viaggio pieno di emozioni dove non solo abbiamo approfondito il mondo della fotografia, ma abbiamo conosciuto nuove persone con cui abbiamo stretto un vero legame.
Non vedo l'ora di partecipare ad altri loro progetti."
Giulia from Italy (Discover Marrakech VII)
"È stata una bellissima esperienza in cui abbiamo avuto l'opportunità di visitare un paese molto bello con una cultura molto diversa dalla nostra.
I Riad e i luoghi visitati hanno permesso di scattare bellissime foto e cogliere momenti che rimarranno incisi nei ricordi!!
Esperienza consigliatissima!"
Filippo from Italy (Discover Marrakech VII)
"Travelling with Let me Italian you is an amazing experience! I participated for the first time in the "Discover Marrakesh 2023" edition and I really enjoyed every moment! Gabriele and Massimiliano are two wonderful people, very good planners and always by your side to help you with everything. I met so many nice people, visited breathtaking places and took so many pictures! This trip will forever be one of my favourites.
Can't wait to join some more editions soon!"
Ilektra from Greece (Discover Marrakech VII)
"In ogni viaggio e nella vita lascio pezzi di cuore dappertutto, mi sbrandello per amore, per sentire tutto continuamente, per lasciare e prendere quanto più posso da ogni cosa e persona. In questo viaggio ho preso più di quanto avessi da donare e questi ragazzi hanno nutrito e incendiato ogni pezzo di me. Tra giochi, fotografie, mani strette, confidenze, battute, litigate coi ristoratori, a cantare "Aicha", gli abbracci stretti, a ballare fino a perdere voce e fiato, hanno saputo regalarmi momenti indimenticabili.
Sono così grata, non vedo l'ora di riabbracciarvi presto
e questa volta spero di non piangere."
Giulia from Italy (Discover Marrakech VII)
"I'm Francesca from Italy. I participated to the 7th edition of "Discover Marrakech" and it was the first time for me with the guys of "Let me italian you". When I signed up for the project I didn't know what to expect. Clearly a mix between travel and photography, but it was so much more. I had the opportunity to share beautiful moments with other people who are passionate about photography and to participate in photographic workshops with beautiful locations and models. I received so many good advices from Marha and Michal, the photographers who participated in the project. The organisers Gabriele and Massimiliano are passionate about what they do, careful guys and kind people. Thank you twins for this opportunity, can't wait to go on another adventure with you!"
Francesca from Italy (Discover Marrakech VII)