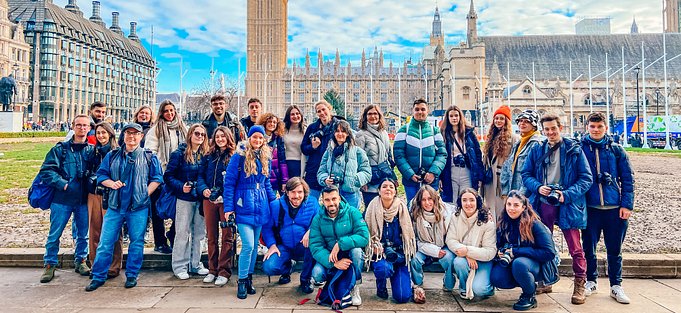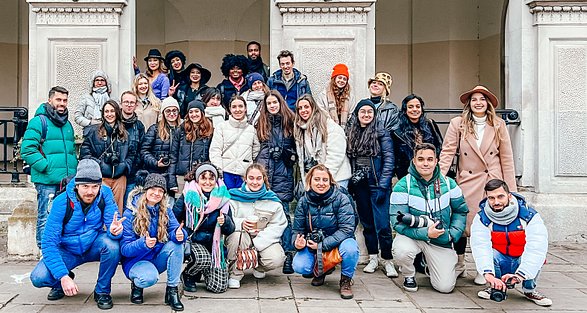 "Quei viaggi che riempiono cuore e anima, che ti fanno scoprire qualcosa in più di te stessa, che ti fanno conoscere nuove e bellissime persone, anime belle dal cuore grande, con le quali condividi risate a crepapelle, stanchezza, momenti indimenticabili e qualche fuga dai gabbiani londinesi. Quei viaggi grazie ai quali scopri che: "che cazzo ci conosciamo a fare se non mangiamo la lattuga l'uno dell'altra."
Viaggi così non si dimenticano mai.
Ci vediamo alla prossima! Grazie Let me Italian you"
Isabella from Italy (Discover London I)
"Partire con Let me Italian you è stata una splendida opportunità che mi ha permesso di conciliare la mia passione per il viaggio e quella per la fotografia. Due gemelli responsabili, un fotografo professionista super disponibile e competente e tanti posti belli da vedere. Un'esperienza che ti fa sentire parte di una nuova famiglia, oltre frontiere, oltre confini, oltre tradizioni e culture. Persone belle. Persone buone. Quattro giorni intensi, ma che rimangono nel cuore. Grazie Let me Italian you."
Giorgia from Italy (Discover London I)
"London is a beautiful city mostly during christmas time because of the lights and the atmosphere and I simply fell in love with it. The project was well planed and really great, I enjoyed every minute of it!"
Dorka said.
What our participants said about their experiences in Discover London
"A beautiful city, incredible people, two lovely twins, a super photographer: this is the recipe for an amazing experience!! I am very happy to have participated in this project! Spending time with people who have the same passion for photography was great!
It was an opportunity to confront and meet new people!! Thank you Letmeitalianyou!"
Elisa from Italy (Discover London I)
"Discover London - Christmas edition è stato un viaggio fantastico. Ho potuto godere della bellezza di Londra anche attraverso quell'aria natalizia che già in questo periodo si fa sentire. Grazie a Yan ho potuto imparare alcune tecniche per migliorare nella fotografia. Inoltre, ho conosciuto tante persone stupende con cui ho condiviso momenti che mi rimarranno sempre."
Chiara from Italy (Discover London I)
"Per la prima volta ho potuto viaggiare e fare questa esperienza con i ragazzi di let me italian you con cui mi sono divertita molto. Ho potuto conoscere nuove persone facendoci amicizia e con cui ho scambiato opinioni e punti di vista. Questa esperienza mi ha lasciato ricordi che non dimenticherò. Grazie!!"
Martina from Italy (Discover London I)
"È stata una bella esperienza,mi sono divertito un sacco,ho conosciuto tante belle persone e soprattutto ho imparato tanto dalle lezioni di Yan Pekar!! Lo rifarei altre 100 volte :)) grazie!!"
Matteo from Italy (Discover London I)
"Appena arrivata a casa. Grazie ancora di tutto Gabri e Massi…come sempre bellissima esperienza. Mi mancherete! I viaggi con voi sempre fantastici! Days that will remain in the heart! This year December started in a special way for me! Thanks to letmeitalianyou for the beautiful Christmas edition project! Un abbraccio ed alla prossima!"
Eleonora from Italy (Discover London I)
"È stata una bellissima esperienza in cui ho avuto la fortuna di conoscere persone fantastiche con cui ho condiviso tanti bei momenti. C'è stato parecchio spazio da dedicare alla fotografia e i consigli ricevuti sono stati utili. Sicuramente la consiglierei!Thank you all for this amazing experience. I met beautiful people and shared beautiful moments I hope to see you soon in a next edition. Have a safe trip u all! Infine, grazie mille a Gabri e Massi per questa esperienza. È stato davvero bello condividere questo tempo insieme e conoscere delle persone fantastiche con cui condividere la mia passione. Ci rivedremo sicuramente in futuro!"
Filippo from Italy (Discover London I)
"I have the tradition to join a Letmeitalianyou project at least once every year! This year it was London and as always it was amazing! Thank you for everything. I'm ready to return to Italy with a baggage full of memories. I hope to see soon all you. You all are really nice people!"
Matteo from Italy (Discover London I)
"Grazie a Let me Italian ho vissuto un viaggio straordinario, che riempie cuore e anima.
Un viaggio che mi ha fatto scoprire un posto nuovo e delle persone con cui ho condiviso momenti irripetibili. Un viaggio che non dimenticherò mai."
Antonio from Italy (Discover London I)
"Heading home! Thank you all guys so much, wish you all good luck and let's hope to meet again soon! Thanks for everything!"
Francesca from Italy (Discover London I)
"Contenta di aver partecipato ad un altro progetto con Let me Italian you, soprattutto perché ogni volta ho la possibilità di conoscere nuovi posti, nuove persone, nuove personalità. E' ciò che mi serve per staccare dalla vita di tutti i giorni e spero di poter rivederci magari ad un prossimo Discover!"
Eleana from Italy (Discover London I)
"Having met both Massi and Gabriele in person, they have such a warm presence. They were kind and incredibly considerate of those around them. It was a great opportunity to meet photographers from various places as well as the others modelling. I had a lot of fun during the shoot, getting to know other people and feeling so welcomed, being pretty new to the space of modelling aswell. Thank you! I would highly recommend this opportunity to anyone who loves photography and exploring beauty be that be moments, places and people!"
Stacia - Model (Discover London I)
"Tutte le volte è la stessa storia: '- Ma tu come hai saputo di questo viaggio? - - Ma guarda...mi hanno contattato tramite social, Italian qualcosa...Incuriosita ho cercato informazioni, perchè mica mi fidavo!! Poi mi sono detta: perchè no? Al massimo mi trovo in una bella città per qualche giorno e da dormire lo troverò, no?' Beh, da allora ho raccontato questa storia 9 volte, in 9 città diverse, ad almeno 25 persone diverse ogni volta (questa volta eravamo 30!!!!) Giorni di sorrisi, di passi, di battute, di scatti, di condivisione, ed ogni volta si rinnova la facilità al confronto che la stessa passione scaturisce e ti fa crescere. E ti trovi a fare colazione in un pub che alla sera diventa discoteca, a saltare in mezzo alle palline colorate come se fossi ancora bambina, a mangiare nachos e tacos come se non ci fosse un domani. Anche questa avventura è terminata. Grazie agli splendidi gemelli barbuti di #letmeitalianyou Gabriele Letmeitalian Ragusa che non hanno mollato continuando a credere nel proprio #sogno. Proud of you, EVER. Thanks to Yan Pekar for sharing his photographic knowledge and perspective of photographic life. Grazie ai nuovi e un po meno nuovi compagni di viaggio E alla prossima avventura!!!
Eleana from Italy (Discover London I)
"Hello my new and old friends! I am still in London and this huge city feels empty without you. Thanks a million for the opportunity to get to know you. You are all amazing people and your company was wonderful. Shoot what you love and put your heart and soul into creating meaningful photos"
Yan Pekar - Photographer (Discover London I)
"It was my first experience with LetMeltalianYou and I really enjoyed it! My second time in London was remembering everything I missed. It's a magical city and this time around Christmas even more so! I learned a lot during these days, I met several people and I take incredible advice into my life as a photographer. Gabri and Massi it was a pleasure meeting you, thank you for all your availability and attention to us.
Hope to see you soon!"
Joana from Portugal (Discover London I)
"I hadn't been abroad for 3 years for pandemic and finally I went to London again obviously with my Let me Italian you family. Discover London - Christmas Edition has been an amazing project so, one more time, I have to thanks these guys soooo kind and patient Gabriele and Massi. Huge thanks to our Master Yan Pekar for all the new skills and suggestions in photography and of course for your real friendship. Thanks new and old friends for coming and see you next time!"
Vanessa from Spain (Discover Italy I)
"I had a wonderful time in London with the letmeitalianyou project. London is a beautiful city mostly during christmas time because of the lights and the atmosphere and i simply fell in love with it. The project was well planed and really great, I enjoyed every minute of it. Everyone was really nice and it was good to be photographers together and learn together about photography. I'd reccomend it to anyone who loves photography and excited about London."
Dorka from Hungary (Discover London I)
"Anche se solo come accompagnatore, l'esperienza Discover London, è stata un'avventura stupenda! Ho avuto la possibilità di visitare una capitale come Londra e di conoscere tante persone simpatiche con cui ho condiviso un sacco di bei momenti!!"
Davide from Italy (Discover London I)
"Ho partecipato a Discover London I, ed è stata la mia prima esperienza di questo tipo. Mi sono trovata molto bene sia con il gruppo che come organizzazione. Parteciperò sicuramente a un'altra edizione"
Michela from Estonia (Discover London I)